One-Stop for all Tech Support
Many systems are now interdependent, we'll ensure they work cohesively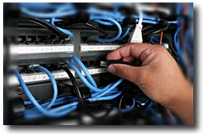 For our customers we're their main or backup technical support team.
On-site telephony, smart-phones, PCs, Laptops, Tablets, CCTV, Servers, Local and Wide networks - these can be integrated to work more effectively and to add more value to your company.
We offer consultancy for business-wide systems health checks, monthly system support contracts, plus tailored solutions to suit various requirements. Please contact us to arrange a free consultancy session or for advice and support.
Remote and On-site
Immediate help is at-hand

Comprehensive remote desktop (and remote server) support allows us to immediately login to your on-site systems and PCs.
This provides a highly cost-effective method for gaining rapid and on-hand advice and trouble shooting.
We can also provide on-site support for the London and Home-Counties regions - plus Nationwide through our local partners.